You may want to delete your data before sending your phone for a repair or trade in.
Back Up Your iPhone
Before you reset, you should back up your device. You can back up your data to iCloud, but we'd advise you connect your ‌iPhone‌ up to a computer and perform an iTunes backup instead, just to be sure. You can find steps to back up your ‌iPhone‌ by clicking here.
Got an Apple Watch? Time to Unpair
If you're trading in your ‌iPhone‌ and have an Apple Watch linked to it, you're going to want to unpair it first. Here's how.
Bring your ‌iPhone‌ and Apple Watch close to each other.
Launch the stock Watch app on your ‌iPhone‌.
Tap the My Watch tab.
Select the Apple Watch you want to unpair, then tap the info button (the encircled "I") next to it on the next screen.
Tap Unpair Apple Watch.
Tap again to confirm.
Enter your Apple ID password when prompted to turn off Activation Lock.
How to Factory Reset Your iPhone
Now that you've backed up your ‌iPhone‌ and manually deactivated services and accounts, it's time to perform a factory reset of the device. These steps will guide you through the process.
Unlock your ‌iPhone‌ or iPad and launch the Settings app.
Tap General.
Scroll to the bottom and tap Reset.
Tap Erase All Content and Settings.


Tap in your passcode if requested.
Enter your ‌Apple ID‌ password to erase the ‌iPhone‌ and remove it from your account.
Tap Erase.
Delete Data from Android
Always backup your data before doing this!
First, fully erase the SD card as discussed above or take it out and keep it safely if you plan to use it in your new phone.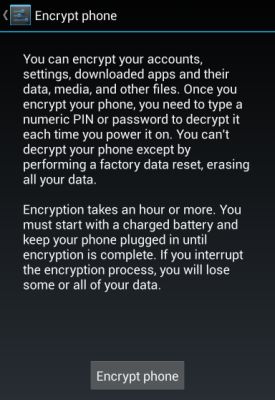 A simple factory reset will delete everything on your phone, but this data can still be recovered by a really determined user. If you want to be really sure no one can recover your data even after it is deleted then make sure you enable hardware encryption on your phone. For most people it should be safe to skip steps 1 and 2 and jump straight to step 3.
1. Go to Settings > Security and tap Encrypt phone. This takes a long time, so you need to connect your phone to the charger to proceed.
2. Tap Encrypt phone again to proceed. Some people have noted that at times this doesn't work right away, and you might need to try it a few times.
The process can take an hour, and so you'll need to leave your phone on the charger and wait.
Once this is done, just reset the phone:
3. Go to Settings > Backup & reset. Tap Factory data reset. On the next screen, tick the box marked Erase phone data. You can also choose to remove data from the memory card on some phones – so be careful what button you tap on.
4. You'll see a warning screen – tap Reset phone to continue.
5. This process may take a few minutes and your phone should reboot to the state that it shipped in, prompting you to choose language and sign-in all over again.
Congratulations, you've deleted all the data on your Android phone.